Having a well-designed fitness center is the key to a business's success as it will help in attracting and retaining your members. After COVID the fitness industry is again seeing a rise in membership sales. As more members are now going to fitness centers the overall design and layout have become very important.
Be it a small fitness studio or a large gym with all the facilities, the layout and design of your fitness center matter a lot. It affects both the customer experience and the perception of your gym.
What might be included in the design and layout of your gym? The layout is the overall way the space of the gym was designed, consider it as being a predetermined factor. Design is how you use images, shapes, equipment, light, colours etc, to improve that predetermined style. The design of your gym can become a voice that speaks for your brand.
We have provided a few design ideas with examples so that you may take your fitness center to the next level.
Modern Fitness Center design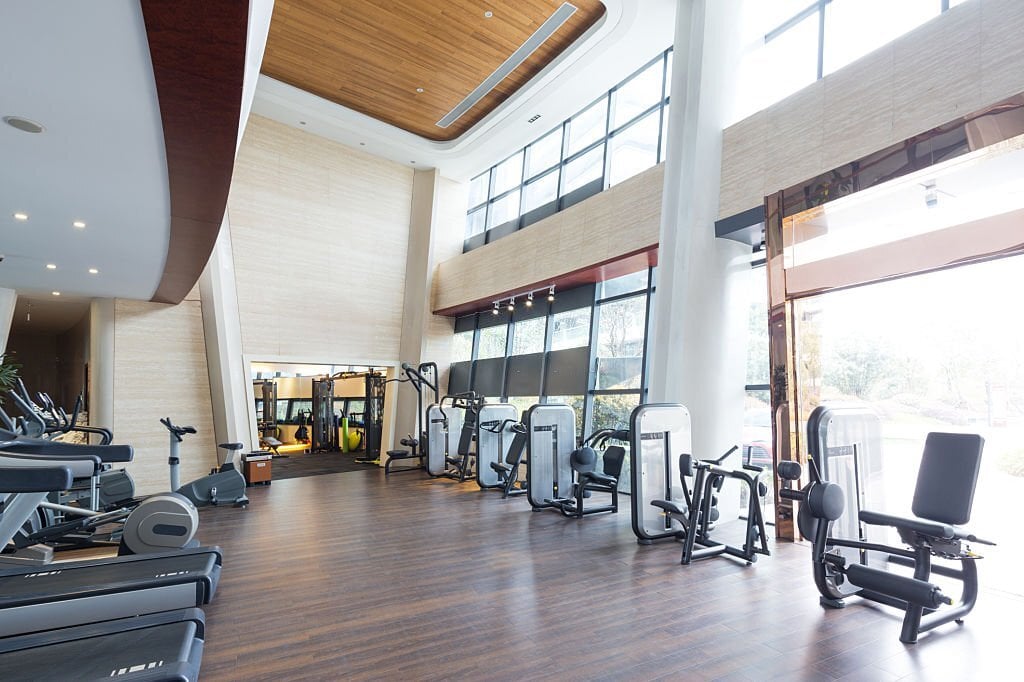 If we are talking about a more modern interior design of your fitness center, it may feature a more mid-20th century vibe. Following are some ideas on how to give a more modern look to your fitness center.
Use more natural materials
Modernism is all about being real, so more earthy tones are preferred. Natural elements such as wood, metal and leather are what make a more modern look. The colours that are preferred are greens, browns, beige etc.
Utilize the natural lighting
Don't use wraps or any other posters that may cover up the doors or windows and block the natural light from coming in. Natural light creates the effect of making your fitness center seem more spacious.
Open-concept spaces are great
Again, utilization of your space plays an important role in designing your fitness center. You can create separate spaces in your fitness centers. Such as setting up the equipment at the sides of the room and leaving space in the center for members to move around. You can check more about floor plans in our previous article, How To Choose the Perfect Gym Floor Plan for Your Club
You can use design elements that are more specific for some areas according to the equipment. Areas can be separated according to the type of equipment that they use, such as cardio equipment can be set up in one area and weightlifting equipment in another.
Don't use décor that might clutter your space
You should avoid any sort of décor that might clutter your space. As you need to adjust the equipment with visual imagery and lights, so it is preferred that you use decorations that have neutral colours and do not make the space seem cluttered.
Contemporary Fitness Center design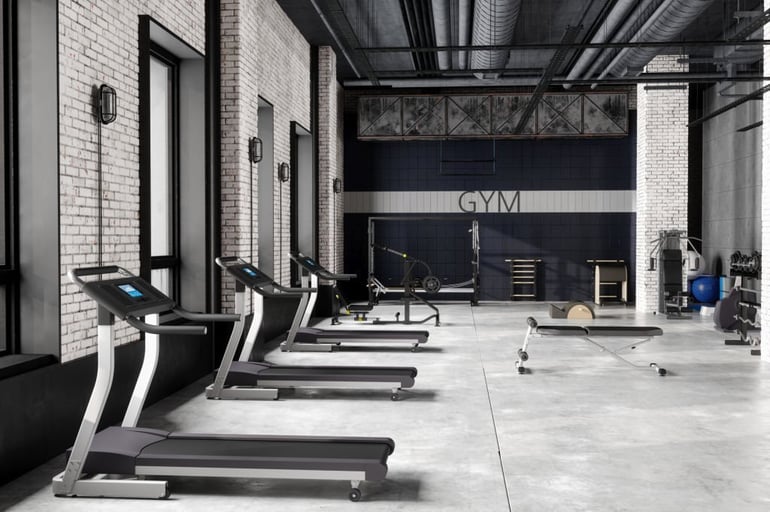 Contemporary style is also known as an ever-evolving style, as it does not have a specific period of time. It can include a bit of everything such as modernism, minimalism, and many other designs and styles. Your fitness center can incorporate a lot of different ideas if you are going for a more contemporary design.
The classic Black and White
The most popular colours used in contemporary design are black and white. You can incorporate shades of grey in a black and white colour palette. The benefit of using black and white is that you can use any bold colour as your accent colour. Your accent colour can be green, yellow, red or any other colour that may represent your brand.
Layered design and textures
Adding layered designs and textures are commonly used if you are going for a contemporary design for your fitness center. Textures can include geometric patterns and usually stand out a lot if they are used with a black and white colour palette.
Illuminate the design
The contemporary style uses light to illuminate the design as it is targeted to provide light alongside making the design stand out. Metal is usually preferred for light fixtures but other materials can also be used. The illumination is used for more creative means.
Minimalist Fitness Center design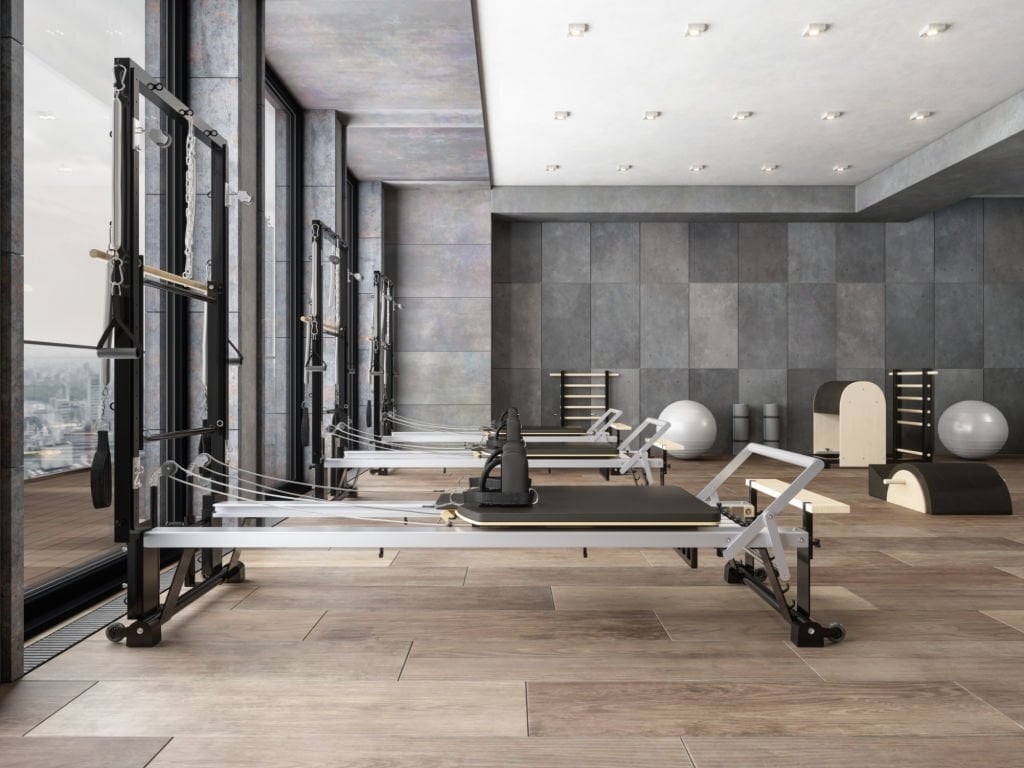 Minimalism does not mean that you use less furniture or equipment. It basically means having a more simplistic and functional approach to your design. Clean lines and monochromatic colours are preferred in a minimalistic designed fitness center.
Keep the design simple
The basic requirement of a minimalistic design is to keep things simple. Having intricate designs and lines is not preferred if you are wanting to have a more minimalistic design. Keeping the surface smooth and lines clear is what you want to achieve.
Use a more simplistic colour palette
Using one or two colours and going for different shades of it are usually used in minimalistic designs and styles. Typical colours that are preferred are beiges, whites, and greys in a minimalistic style.
Function matters more than form
The minimalistic design focuses more on the function than the presentation. If you are going for a minimalistic style of the fitness center you need to make sure every piece of equipment or décor has some sort of function. It should be motivating for your members so that even if it is there for décor it has some sort of function.
Industrial Fitness Center design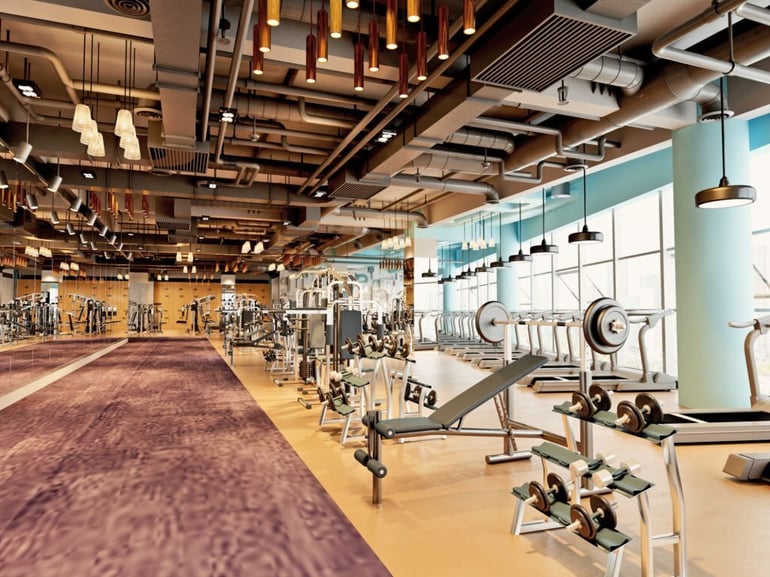 As the name implies, industrial design is more about showing the raw features of your fitness center. It is also classified as a more rough-looking design.
Go for the exposed style
If there are any pipes, rustic metal, or concrete walls, utilize them in your design concept. It will give a more rough or raw look to your fitness center and will go perfectly with your theme.
Incorporate industrial materials
Using signs made of wood or steel, even rustic metal can give your fitness center a more industrial look. Brick walls are another great feature you can use for an industrial look. As for lighting, using dimmed lights is a better option. But you should keep in mind to not make the place too dark as it might get on the nerves of your members.
Conclusion
You can integrate these ideas and can improve the overall design concept of your fitness center. The stylish look of your fitness center can help with attracting and retaining your members and will also help in creating an identity for your brand. You can check our previous blog for more gym design inspirations. Having a specific theme for your fitness center can give you a competitive edge as it will make your fitness center stand out.