Gym layout is part design, part maths and part logistics. You want the space to look nice, but it also needs to offer real-estate value. We've discussed this in previous articles, where we focus on the value:space ratio of equipment and how much space it takes up on the floor.
To get the most out of your gym, the layout design needs to be precisely planned, offering safety, efficiency, and, of course, aesthetics. You want your gym to be a cool place to hang out after all.
So, with that in mind, we've compiled our five favourite, most inspirational gym layout designs of 2017. To get the top five, we were looking for a combination of smart design and attractive aesthetics.
Nike Studio - Beijing, China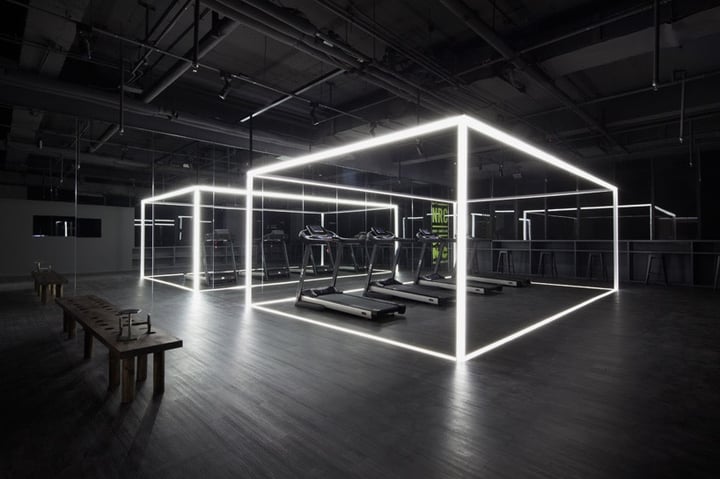 Picture credit -https://hypebeast.com/2015/9/the-nike-studio-beijing
This awe-inspiring space features LED-lit displays, insane graphics and segmented workout zones, all housed in a 1,200 square meter gallery style space in China's capital.
Because of the generous floor space - which is hard to come by in Beijing, one of the world's most densely populated cities - the designers have been able to space things out quite nicely.
The use of contrasting light makes the cavernous surroundings seem even bigger than they are.
You couldn't help but feel fitter, faster and stronger working out here.
38X Gym - Manly, Australia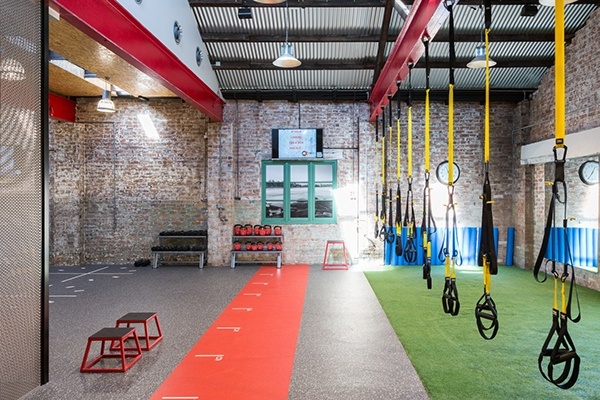 Picture credit - https://www.behance.net/gallery/19043089/38X-Gym-Manly
This relatively modest space feels bigger because of the use of colour, natural light and texture. The artificial grass not only makes for a softer landing surface, it also widens the panorama of the space and provides distinction between this area, and the engineered flooring that sits adjacent. In terms of layout, it's quite a simple grid design, based on a one-dimensional plane.
The exposed brickwork is a nice touch too, giving a distinctly rustic feel to an otherwise ultra-modern room.
Blok - London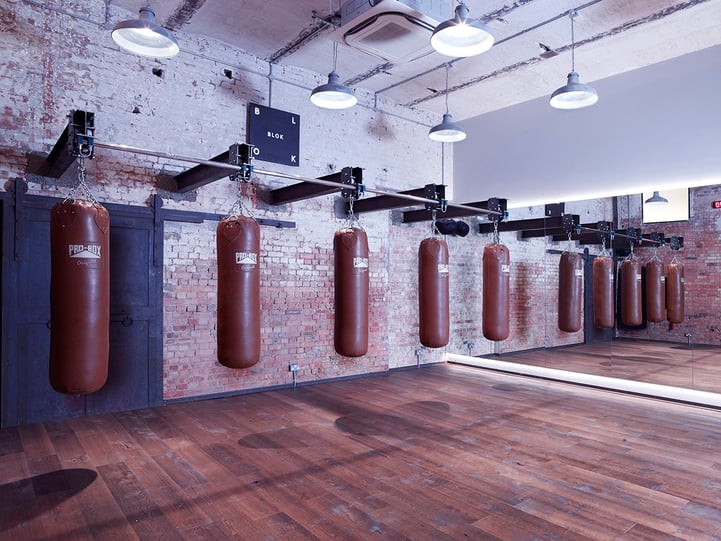 Picture credit - https://www.bloklondon.com/
Simple, traditional and rugged, this layout wins because of how it uses wall as well as floor space. Each bag consumes approximately five square feet of floor space, while providing enough resistance for a high-intensity workout.
We also love this particular design because of the low maintenance cost. Brick, wood and leather. No moving parts to fix.
In terms of layout design, this one is about optimising space. The heavy bags are deliberately located against the back wall to free up space for shuttle runs, circuits, aerobics and whatever else you might want to do while off the bag.
The floor-to-ceiling mirrors not only allow for shadow boxing, they make the entire room feel twice as large as it actually is.
Gold's Gym - Venice, California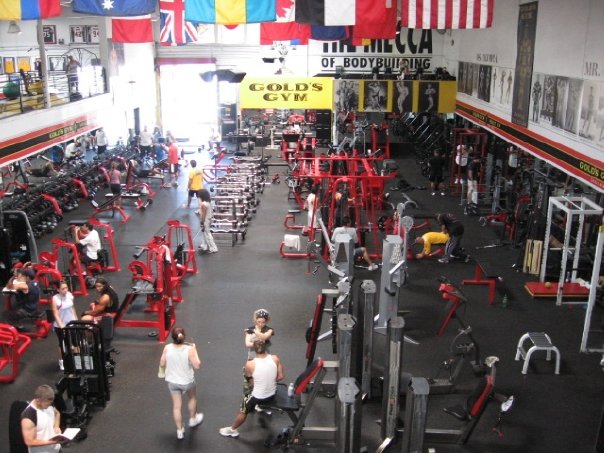 Picture credit - http://www.leehayward.com/musclebeach/muscle_beach3.htm
Gold's is perhaps one of the most iconic gym franchises in the world, and the Venice, California property is the original, opened by Mr. Joe Gold himself.
This expansive, industrial feeling space may lack the finesse and style of some of the other examples, but it's pure functionality makes it a winner in our book. Just look at how much stuff there is!
By laying the gym equipment out in a grid, by type, with just enough space to allow each user their full range of movement with a little extra for safety, this gym manages to offer a magnificent range of equipment, without feeling crowded or cluttered.
It may look a little tired, but as far as gym layout designs go, there's a reason Gold's is one of the most successful gym and fitness businesses in the world.
Reebok Crossfit - Fifth Avenue, New York City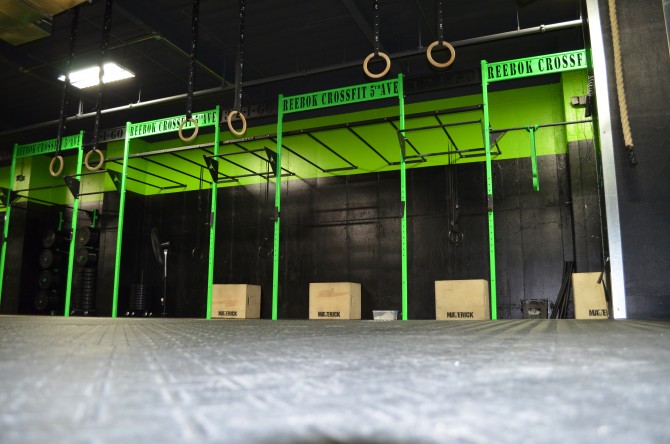 Picture credit - http://reebokcrossfit5thave.com/
If Gold's Gym succeeds because of how well economised the floor space is, this one wins for the opposite reason. There's hardly anything on the floor. You'll need to cast your gaze upwards to get a complete understanding of everything in here.
A minimalist space, designed for group workouts where competition and camaraderie are part of the appeal.
What makes a good gym layout design?
This all depends on your customers and their needs. If you're running a strength-focused gym, you'll need plenty of equipment that's fixed in place. This means you'll need to be economical with your space and ensure every piece of gym equipment 'pays its rent' by being useful and relatively low maintenance.
If you're running a more cardio-focused gym business, you'll need a lot more open space for people to move around.
But whatever kind of gym space you want, you'll need to consider the following two factors first:
Safety
Literally nothing comes before safety when designing a gym layout. Without a strong focus and commitment to safety, you're doing a huge disservice to your members.
When we talk of safety, consider the following criteria:
Fire escapes and emergency exits

- these must not be blocked or impeded in any way.

Space between equipment

- each piece of equipment must be situated so that there's no crowding, even at busy times.

Equipment layout

- Putting heavy barbells adjacent to a stretching area, where people will want to lay on the ground, is not a smart decision. One dropped barbell could end in serious injury. Think logically and keep high impact and low impact areas separate.
Atmosphere
You want your gym to be a fun, rewarding place to be. People are here to hit goals and work hard. So the atmosphere needs to be a mix of welcoming, without being too relaxing.
For a welcoming space, consider putting the high impact stuff - heavy kettlebells and battle ropes, away from the entrance. Some of your customers won't appreciate being greeted by the noise and intensity as soon as they walk in.
The key to getting the layout of your gym right is to consider how your customers want to train. Higher end gyms generally have more open space so that they feel more like a health club. Budget gyms succeed because they optimise floorspace and get as many members in the doors as possible.
Before you even plot the first line of your gym layout, think about the members.