Looking to boost sales for your online store this Halloween? Have you been working on campaigns but couldn't garner desired success? When it comes to business, nothing is impossible. With rock solid determination and a well-chalked plan, this is your secret formula for acquiring increased sales this Halloween.
#1 - Now Is The Time To Start
Executing an impressive strategy that sky-rockets your sales, while you cater to hordes of customers to your retail store can be quite an intimidating task. However, cumbersome it may seem, prepping up your online store for Halloween is not an impossible feat.
Once you embark on your journey towards realizing greater profits, be mindful of achieving new milestones every now and then. For you to tap on the potential of Halloween sales from your online store, we have compiled a list that would enable you to encounter any hurdles along the way.
Your Halloween goal this year should be improved sales, satisfied customers and hefty revenues. Though this doesn't seem too much of a task to accomplish, it is easier said than done.
Let's get started!
Prepare For The Early Birds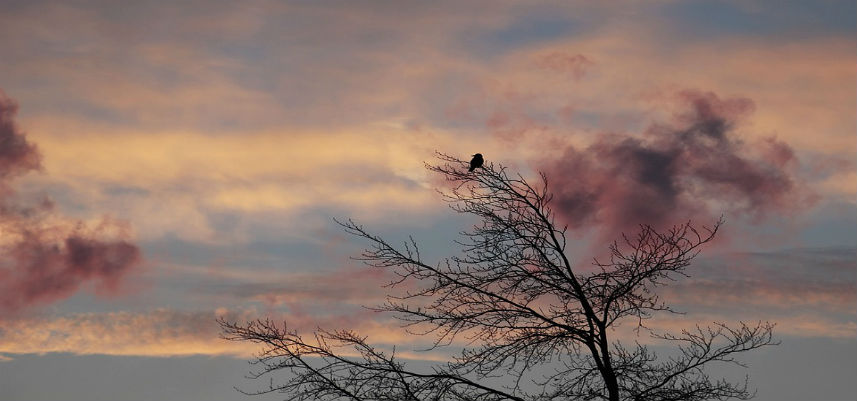 Start as early as you can for designing an impressive Halloween campaign and spread the word around. A study by RetailMeNot shows that nearly more than half US citizens start planning for any holiday almost a week earlier than the occasion. This means that you can tap on a huge market before the start of Halloween. Ideally, a good campaign strategy would provide insights to customers about gift ideas as well as products that are on discounts on your site.
Manage Sales Influx
Plan well ahead in time about products that you would be putting on sale so that sales influx on Halloween is easily manageable.
A good way to sort discount packages is to design a "planned sales map" in Word Document or Excel Sheet that would highlight the products that you are looking to put on sale. Then decide the date for your campaign and the discounting prices at which you would be offering your products. This way once sale is on, you don't have to rush around selecting products that would be given at discounted price on Halloween.
Draw Plan B
You have jotted down the best plan for Halloween season. Halloween banners are ready and the products that are going away in discount are stocked up. Still, you need to have a Plan B ready, in case something awry happens.
While preparing for a sale, always bear in mind the contingencies that might happen. What if the shipping company that you are working with is busy with other stores and is unable to deliver your products on time? There is a high probability that high sales lead to sold out stocks, which you need to be able to refill. Carefully analyzing all the situations that you might come across during Halloween season, is a good way to chalk out a plan B and implement it when need be. The best part about being prepared beforehand is that you won't have to troubleshoot for solutions amidst crisis when things start rolling on a weekend when you can potentially make the most sales.
#2 – Be Ready To Handle It All
Pay Attention Towards Your Website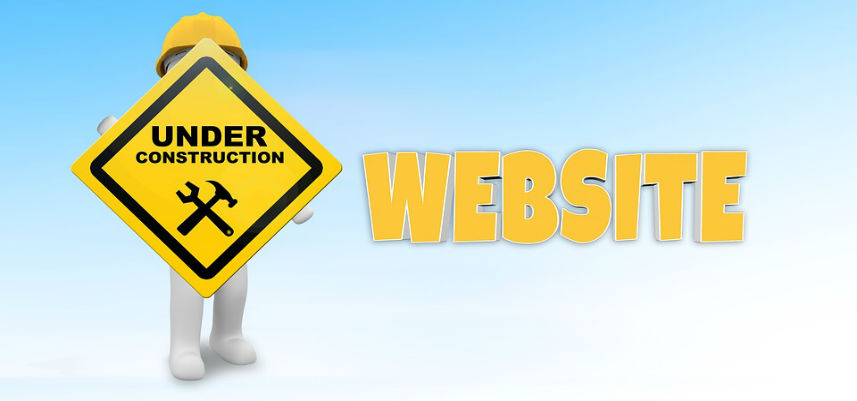 With Halloween season comes a myriad of traffic. And this is exactly what you want. While you are all too eager to pull traction to your website, it is most likely that your website hasn't been updated to manage the influx of visitors. The worst thing that you can expect is a website to bog down due to large number of requests. Though this kind of dormancy only happens when there is very high traffic, it is always best to make sure your host is able to manage it. It is easy to figure out how much traffic your online store is capable of handling with the help of different online options that will precisely tell you how much the server load capacity is.
Make Sure Your Online Store Is Ready To Deal With Online Stampede
Whether your product is being manufactured by a supplier or your employees are working dedicatedly in crafting the perfect piece, you need to be mindful about getting more stock in store right before the start of Halloween.
Ideally, it's best to give your suppliers or workers an estimate of the number of products that you will be needing during sales season two months before Halloween. Being unable to meet the demands of your customers during the sale is the worst calamity that can strike your brand image and can lead to turned away customers along with a stark decline in revenue.
#3 – Gear Up Your Campaigns
Invest In Banners And Images
Your sales will speak a thousand words only if you have suitable imagery for the occasion. Invest your time and money in getting spectacular banners and images that would correlate with the occasion and give your website a consistent feel. Aligning your product offerings with the occasion and then presenting them to your customers as a whole is an integral part of a successful campaign.
For this, first carefully analyze the products that you are offering them. Think of the commonalities between the festivity and the items that you are putting up for discount. An easy way to do this is to think of words that best describe your offerings. Now choose the words relevant to Halloween and pick the ones out that are same or convey similar ideas. Based on the words that relate your products to the festivity, you can design a whole theme for your website.
Whether you are looking to change the whole theme or just switch the header for your homepage, the task can be done conveniently by you. If you feel lacking the knack, look up from hordes of options available online. A good way place to start with your hunt is CreativeMarket. Alternatively, tools like Canva can be used to get step-by-step instructions on how to create the perfect Halloween imagery. Still unable to draw the picture that you want? Consider hiring a freelance graphic designer.
Create Ad Content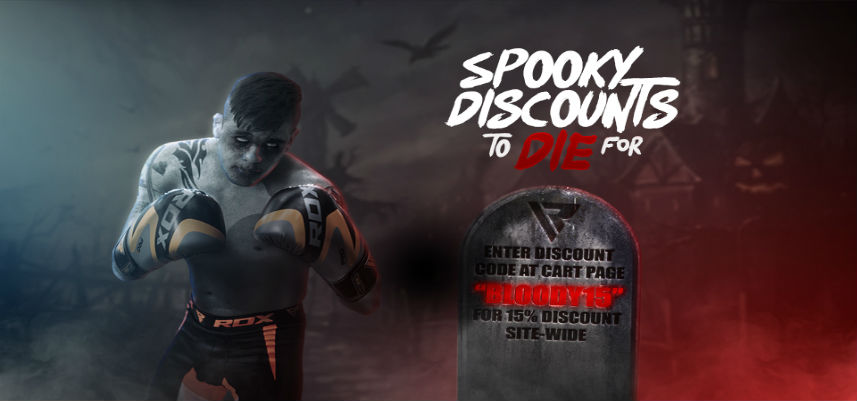 In the digital world, there is just one king and that is content. The only way to garner success from an online campaign is to develop appeasing content. The best strategy to come up with ads that would pull traffic towards your website is to spend some time in solitude brainstorming with ideas that resonate with your brand's image as well the products that you are offering.
A well-constructed content strategy in hand can allow you to assess the success of your campaign and avoid making the same mistakes next time.
In order to embark on this task, you can get help from multitude of options available online.
During specific seasons, bids can reach their highest. To get most of your campaign, be ready to pay a bit more to get most-searched for keywords. This would increase your brand's visibility among select audiences. If you are thinking of paid advertising for your campaign, set aside your budget in advance to avoid last-moment confusions.
Focus On Pre-Campaign Build-Up
Announcing a sale campaign on Halloween might get some customers interested, but if you plan on turning heads, focus on a pre-campaign and build up hype before the start of your sales offering.
Send out teasers on your social media pages or in emails to stir some interest in your potential buyers. The more you are able to pique your audience's curiosity, higher will be the momentum of the campaign. And when you finally open the door to Halloween sale, you'll see customers rushing in to order their favorite products.
#4 Experiment Before Launch
Don't Let Abandoned Carts Go Waste
According to a study carried out by Barilliance in 2017, cart abandonment rate on Black Friday was nearly 75%. That is a pretty disturbing number for any business owner.
If you looking to get guaranteed sales on Halloween, try sending emails to customers who have put up some products in the cart but then left your site without making the final purchase. You can punch in an extra last moment discount offer to entice the customer to complete his purchase.
Don't Ignore The Power Of Gadgets
According to statistics shared by Shopify, there were more mobile customers than desktop users for Black Friday sales in 2017.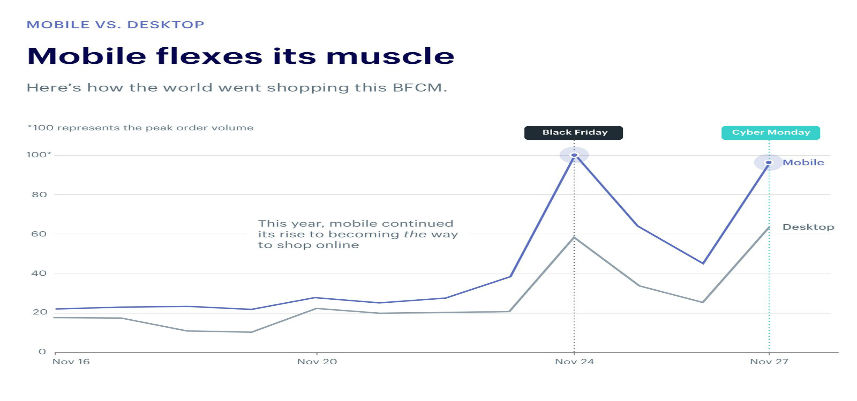 Image Source: Shopify
With the abundance of mobiles and the growing influence it has on our lives, we should expect to see a rise in this trend. As a business owner, this opens for you the opportunity to provide your mobile customers a consistent and uncluttered shopping experience.
Analyze what kind of experience your mobile customers get while shopping your products. Are they getting a seamless process from the start to the end? If not, what are the loopholes in the purchasing process and how can you overcome these problems? With the issues highlighted and sound solutions to the problems, you can amass huge sales revenue from your mobile customers.
Constructing a mobile responsive website is a must for any business owner who is looking for exponential sales during any festive season. Don't forget to examine the checkout process, and make it as simple as possible. Asking your mobile customers to fill out blank spaces can be real turn off, causing your customers to bounce from your online store. Keeping the process simple ensures quick purchases.
Test Before Offering Your Customer
Before you offer all your efforts in a plate to your customer, it is best to have a taste of what you have cooked so far.
To clearly understand your customers' psyche, it is best to step into their shoes. This way you will be able to fully analyze the loopholes in your marketing campaign. There can be million small issues that you tend to overlook as a business owner because you have toiled so much in putting everything together. A fresh pair of eyes can certainly highlight these "hidden opportunities" that can garner your campaign towards success.
For you to get a true picture of what message your online entity sends, you can ask someone to go through your website and give a feedback. Alternatively, tools such as UserTesting can be used to check the level of influence your brand has over your customers by setting various parameters. Using such tools can help you easily gauge the effectiveness of your store by visiting it as a random customer.
While feedback is in fact an opportunity to capitalize on, make sure that you make changes which are absolutely essential. Adhering to every negative response can prove to be problematic for you in the long run, deviating your focus from developing a consistent message for your brand.
In order to address negative feedback, come up with solutions that would require minimal changes.
Utilize The Power Of Pixels
Pixels are amazing tracers and can provide you with important insight about any visitors on your store. This way you can reach out to them later, bringing in your revenue once Halloween season is over.
#5 – Marketing Matters Most
Learn The Art Of Marketing
According to a research carried out by an advertisement company in 2017 click-through rates during festive season double for all the ads that they run. Purchasers tend to pay more attention towards advertisements during festive seasons, the reason why ads cost much higher at these times of the year.
But while you have to bear with increased costs, you have the opportunity to grab the attention of your customers the most. This is the time when your marketing efforts would bring forth maximum results. The foremost step in this regard is to get your content ready, which has already been mentioned above. Other steps that you can take during this crucial time are discussed below.
Target Your Past Visitors & Customers
Pixels are a good way to trace your old visitors as well as your customers. They act as database for all the visitors who browsed through your products and left without making a purchase.
The tool can also be utilized to grab the attention of your previous customers who made a purchase at your store. It would be quite convenient to market your products to previous customers and get them interested in your deals on Halloween.
Think Big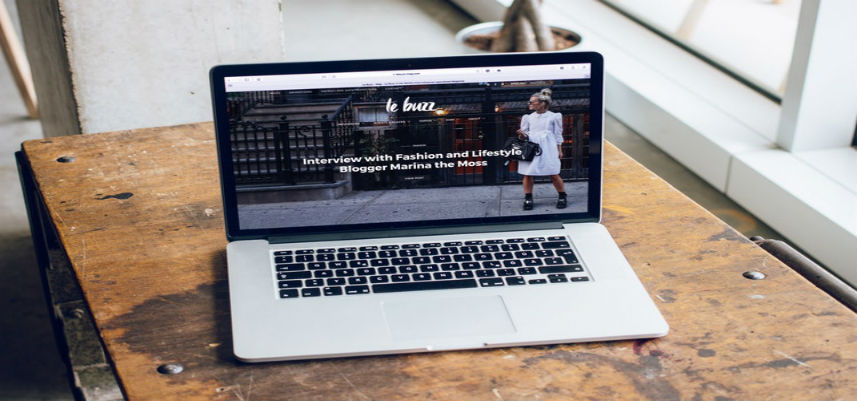 In a world where there is rapid advancement in digital realm and a cut-throat competition, you need to be on your toes to exceed the ordinary. Consider building partnerships with websites and blogs that operate in the same niche as you. Though you might be lucky to hook on some alliances during the last moment, it is always wise to do your groundwork beforehand.
The first step to develop a partnership is to find websites and blogs that are talking about Halloween. Once you have shortlisted all the relevant sites, reach out asking them to promote your products.
Time To Initiate Email Marketing
Multiple researches indicate that email marketing leads to highest conversion rates. This old school formula is tried and tested and brings about positive results in all seasons. You should always have a few email marketing campaigns up your sleeve so that your customers can be informed about the offerings just in time.
In order to reach out to all your clients, begin with planning, drafting and scheduling emails for Halloween season. Following are a few ideas to start off with your email marketing campaign.
Announcement: Email your potential clients about the starting and ending date of your campaign.
Reminder: Send out reminder such as "last day for sale" etc to get your clients interested in your products.
Benefits for email subscribers: A good way to capture the attention of your clients in the loud noise of Halloween sales is to offer a discount that is exclusive for your email subscribers only. You can market this deal on social media channels to get a large list of subscribers.
A hint of upcoming offers: Teasers work wonders whether you are offering discounts, free-shipping, a free product or a totally unique offer. Tip it off with rightly timed emails and these teasers can bring in hordes of customers during Halloween sales.
End Note
You can get most out of the Halloween season with the above mentioned tips. If you unable to incorporate all of them, consider opting for ones that are easy to execute to witness phenomenal sales.