The newly launched AURA is already causing a buzz within the Exclusive RDX SPORTS PARTNER community due to never before seen margins. We designed this range to provide our partners with what they need the most and our valued customers with something they never knew they wanted!
With its premium quality NOVA TECH range of products, AURA is the first of its kind and one of the most comprehensive series of combat sports equipment and apparel by RDX. The Aura series is the first commercially available product line from the NovaTech series. The Nova Tech family of wrinkle free gloves and padding comes with its three different ranges, Vanguard, Shield and Enhance. Launching its way to the general public AURA is sure to transform the future of combat sports with its super robust and extreme capabilities.


AURA Vanguard Series
The new Aura Vanguard is designed to lead and conquer! Always ready for an attack and the first ones to take the leap. RDX launched its AURA Vanguard series this August which consists of Aura Gym Gloves, Aura Boxing Gloves, MMA gloves and Apparel.
Gym Gloves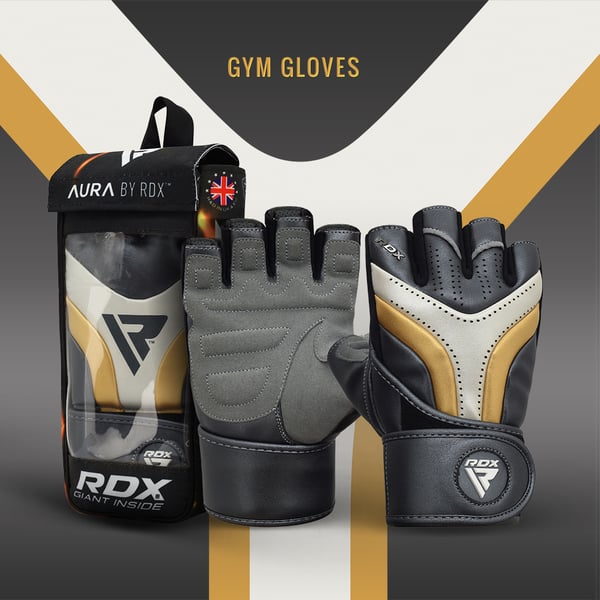 Designing and making gym gloves for heavy lifters is not an easy task. The glove has to be extremely robust and heavy duty in order to sustain and lift heavy weights. RDX's AURA Gym Gloves are specially designed to facilitate heavy weight lifters. Its Patent Kalix Skin ensures durability and provides ultimate protection to the hands. They are shock resistant lined with an inner Amara fabric that gives a soft feeling on the inside while the glove resists extreme pressure on the outside. Quick EZ Hook and Loop makes it even easier to wear and take off the glove.

Boxing Gloves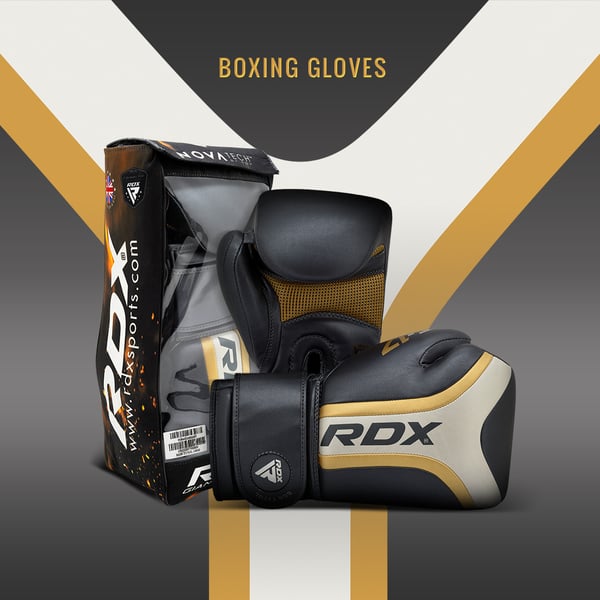 Hand stitched to perfection using patent combat leather, Kalix Skin is a vegan material that is laminated using a thin layer of foam that is Hepta-Fused together. Moreover, to provide ultimate comfort Nova Tech technology has been infused to manufacture the beast glove. Nova Teach is the Flat Arc Radial Panel technology that breaks charged molecules down through circular motions, reducing the intensity of any strike before it reaches the bones.

MMA Gloves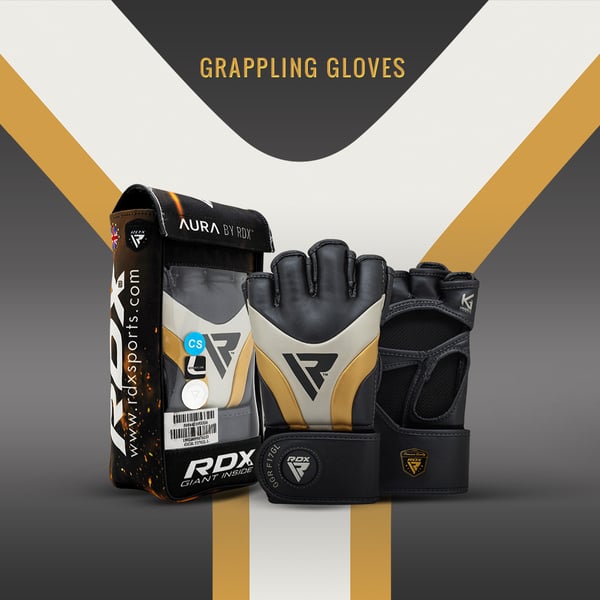 The unique design of AURA MMA gloves includes a curved surface that provides the maximum protection to the hand from serious wrist, hand and face injuries. Made from high quality leather AURA MMA Gloves features the protective NOVA TECH technology that promises to reduce the impact of each strike. AURA MMA Gloves are extremely versatile, providing an easy transition from push-ups and cardio training to grappling and light bag work, these gloves allow for a full range of workouts.


AURA Shield Series
With the Shield Series, awaken the warrior inside.
Headguard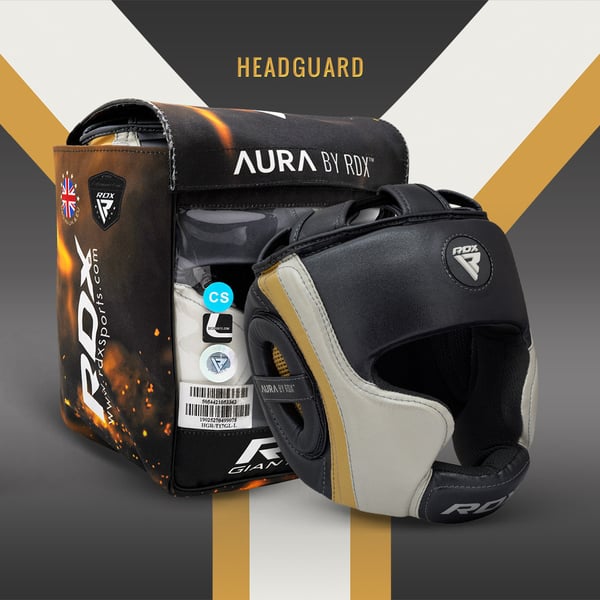 Head guards are a must-have during combat for complete protection without hindering mobility. RDX's new range of AURA Head Guard offers safe and high-quality head guards. It has multi-layered foam that protects the forehead, chin, jaws and cheekbones against every possible injury. AURA Head Guard offers smooth cushioning inside while maintaining flexible grip. Its super ventilation technology further aids in moisture wicking that adds to the comfort. Wide elastic band around the head keeps the head guard firmly in place.

Shin Guards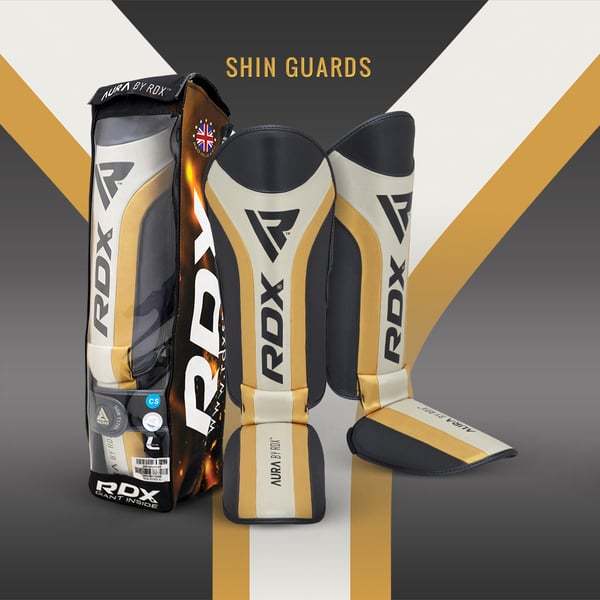 Shin bone is one of the most sensitive bones in the body that needs adequate protection at all times. RDX's AURA Shin Guards ensures an injury free experience in the gym and ring. Made using vegan leather, supported by light and highly shock-absorbent padding. Not only do they provide extra protection, but they also provide comfort throughout lengthy sparring sessions.

Hand Wraps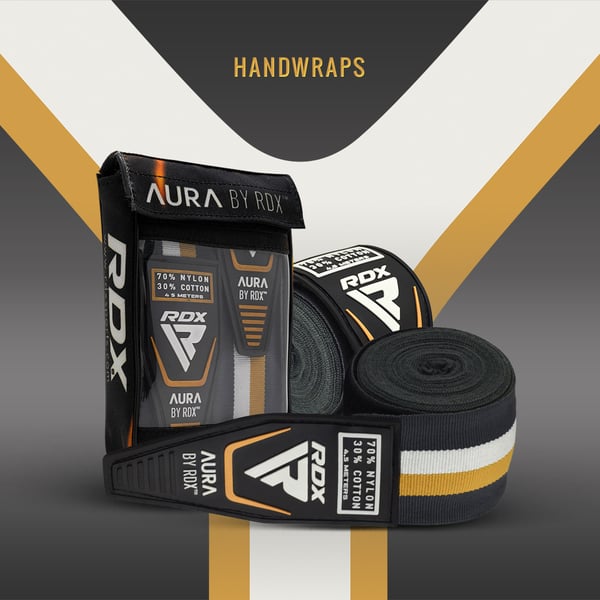 AURA Hand wraps provide protection for the knuckles and help prevent cuts, scrapes and tearing. Whether a beginner or a well-trained boxer, a proper wrap will ensure safety and comfort. It protects from shock and vibration damage and harm that is possible when striking a heavy bag, pad or opponent.


AURA Enhance Series
With Aura Enhance breakaway from the ruckus of a mere mortal.
Punching bag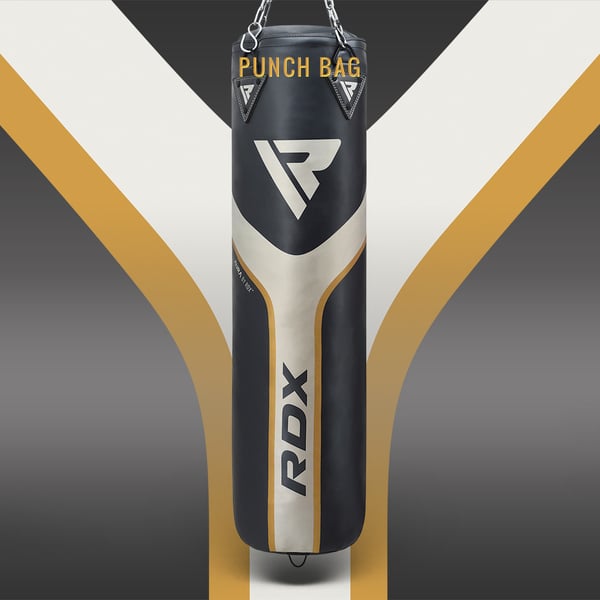 Enhance Handcrafted Bag T17 is made to cater the needs of both beginners and experts equally. The Enhance Series from the AURA range is designed to match strikes and can withstand multiple fighting styles.

Thai Pads
Enhance Thai Pads are made with superior craftsmanship that guarantees durability and functionality. The latest MMA stylish wear is designed to block all sorts of strikes and blows. Reinforced lightweight layering offers flexibility for both trainer and trainee. The product is made to outlast long periods of training without hygiene issues keeping the pads dry. AURA Enhance Pads are fully resistant to losing shape which further helps daily training needs. Made from 100% performance polyester guarantees that the fiber of the pads will not degrade easily. The breathable AURA FABRIC also reduces bacteria buildup by evaporating it to the top layer.

Apparel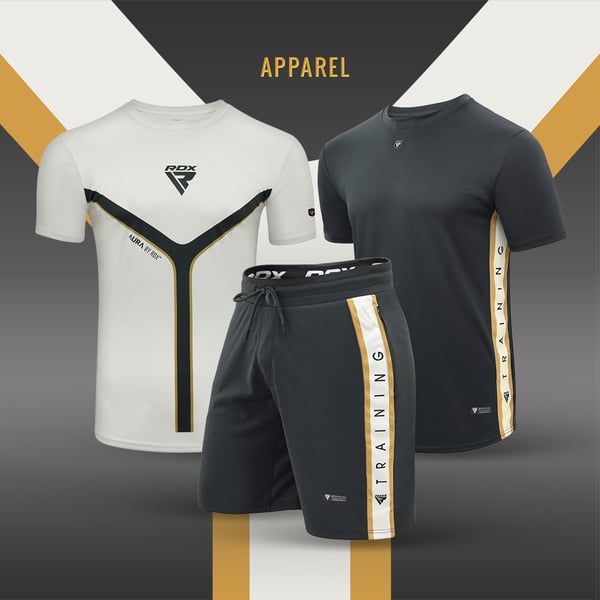 It is very important to wear comfortable apparel while engaging in any sort of fighting or training session. Many athletes consider apparel to be an important component of their fight. 100% performance polyester fiber fits the body like a glove and gives a comfortable space to breathe and combines with elasticity for a dry and comfortable training experience. Aura's apparel is resistant to losing its shape or form after wash and provides unhindered mobility whether training for MMA, boxing or running.